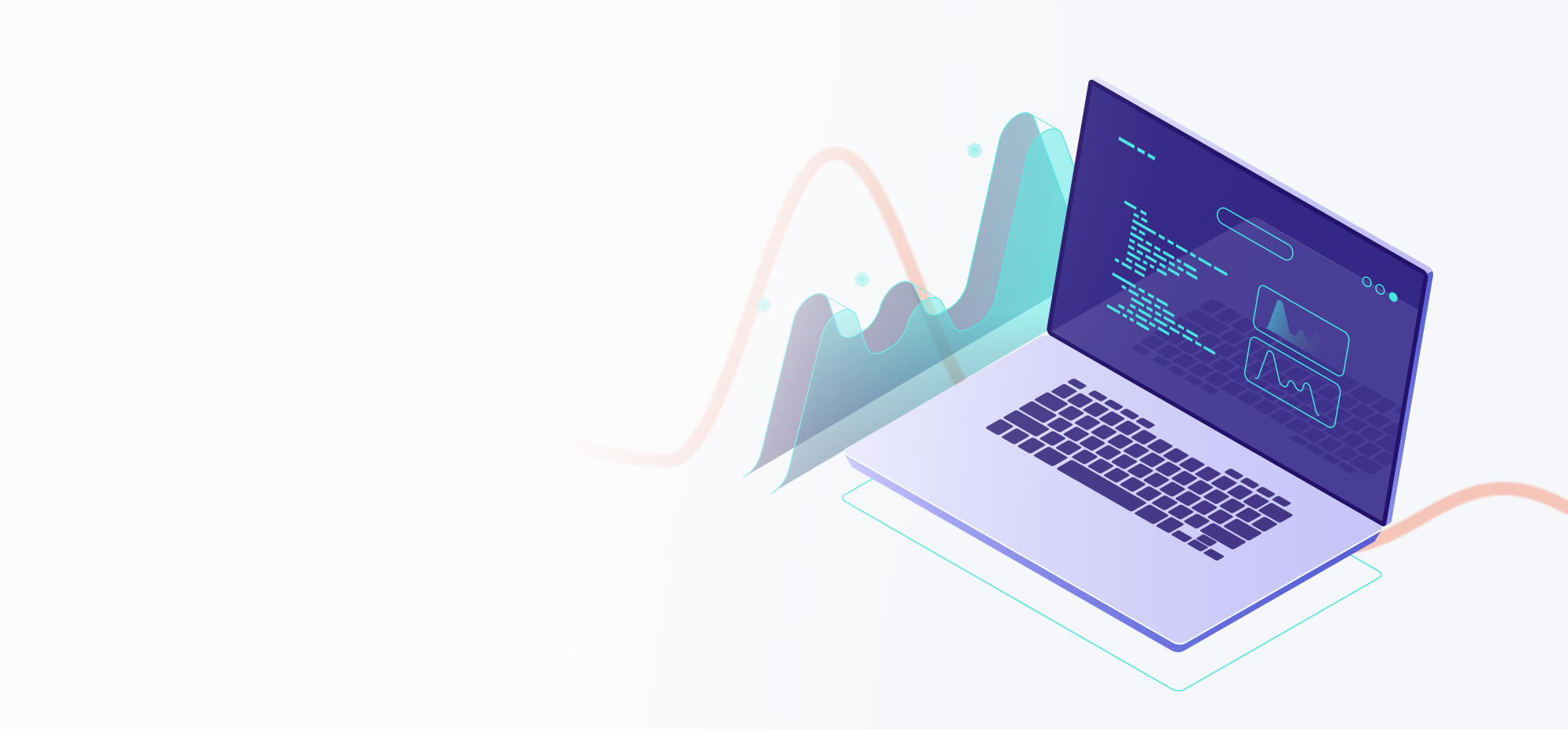 Software Defined Wide Area Network (SD-WAN)
MNS SD-WAN is a new and transformational way in managing WAN more efficient from architect, deploy, and operate organization network. Through SDWAN customer can; cut complexity by centrally manage WAN devices through Digiserve Infinity Portal and one point of contact, connect Head office, branches, and cloud with various link connection option (MPLS, Internet, LTE), Excellent connection availability through backup link from public link just like private network and many more.
Digiserve Managed Service provides an end to end managed services that includes presales support, commissioning, 24/7 proactive monitoring and incident management, reporting, and service change management.
Digiserve SDWAN Managed Service

Presales Support
A complementary service from Digiserve to help customer in finding the right solution before committed to our services - Solution Design - Budgetary

Commisioning
Once-off services, provisioning service based on customer requirement: - CPE purchase - Proof of Concept - Hardware installation - Commisioning - Decommisioning

24x7 Proactive Monitoring
Will monitor and manage the customer device 24x7 Proactive / Reactive basis as well as manage incidents and alarms.

Reporting
A range of reporting options, to enhance the end-to-end visibility of their network. The ability to view device, network, and application reports can assist in ensuring the customers network performs to its maximum capability

Change Management
The ability to perform Moves, Adds, Changes or Delete (MACD) through In-scope/Out-of-scope change requests
Previous
Next
Digiserve Infinity Portal
Seamless Experience
Our portal allow customer to monitor, request change, and manage their whole network through a single monitor, infinity portal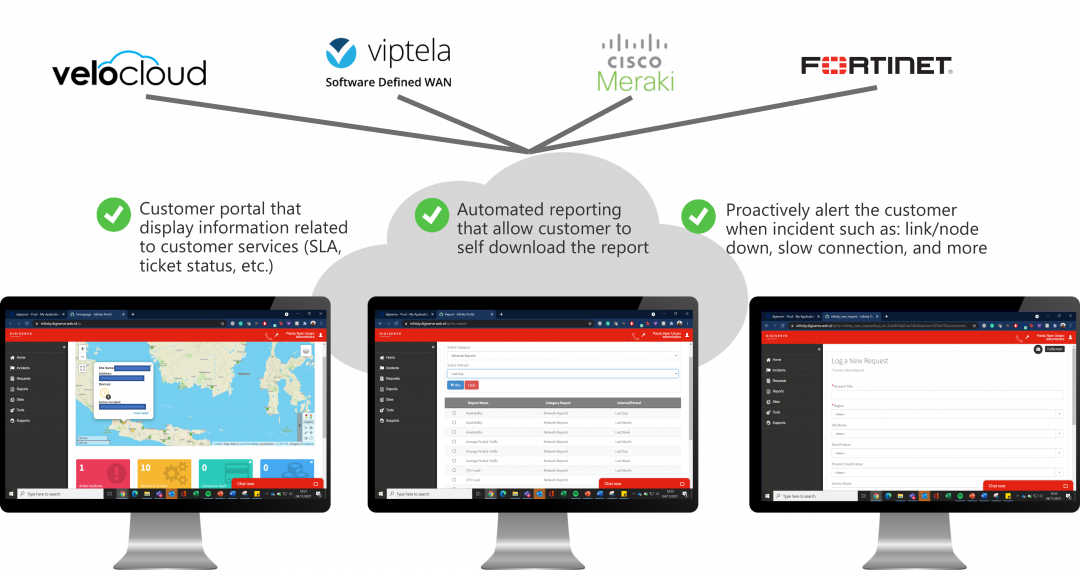 Use Case : Network Complexity

Challenges
Enterprise used multiple type of network on their branch, difficult to monitor
Managing devices in policy and configuration of thousands of devices at branches is difficult
Deploying devices to a lot of branches is costly and time consuming
Solution
High visibility in monitoring of multiple network type
Centralized Management
Zero touch provisioning
Benefit
Monitor all your network with ease
Manage policy and configuration and access controller from anywherof all device through one centralized tools
Fast deployment
Use Case : Brand Agnostic and Load Sharing

Challenge
Enterprise often used 2 WAN/ internet of different provider and set up as main WAN and back up. Which the back up very much idle all the time.
Solution
SD-WAN can used as load balancer of multiple WAN and utilize the backup WAN from different provider or different carriage link.
Benefit
Optimise and utilise a back up and standby WAN
Cost cutting, no need upgrade Bandwidth on a main WAN
Use Case : Link Path Controller for Specific Application

Challenge
Some Enterprise want to optimize their VPNIP bandwidth by re-routing some of application (e.g: email and voice)
Solution
Change internet link into VPNIP-like (secure and private) by creating VPN IPSec Tunnel
Enterprise can move any MPLS VPNIP traffic easily to Internet
Benefit
Optimize MPLS VPNIP Bandwidth
Having an internet link that feels like MPLS VPNIP
Crucial application will have faster access time
Benefits

Simplify Branch Networks
Provision branch offices faster with zero-touch deployment, simplified configuration, orchestration and on-going monitoring with centralized troubleshooting tools.

Optimise Apps Performance
Optimize application performance over Hybrid or Internet links with direct, secure access to enterprise and cloud applications. Provides consolidated monitoring and visibility across multiple WAN links and service providers.
Deliver Branch Agility
Enable multiple links, devices and services to coexist and operated with incumbent solutions and make the branch agile.

Reduce Cost
Deliver operational efficiency of hybrid WAN with ease and enable branch offices with ordinary broadband as enterprise-grade WAN at a reduced cost.


Faster Problem Resolution
Support with 24/7 service desk and service assurance support such as event monitoring, proactive incident notification, online fault reporting with Single point of Contact (SPOC).

Complete IT Control
Gain greater control and end-to-end visibility of service status using Customer Portal with self-service capability and online performance report capability
Previous
Next
Features

Orchestration, Automation & Centralized Management
Using cloud based controller to managed SD-WAN Devices


Multiple Links
Auto load balancing or use manual routing provide for manage SD-WAN and support auto failover for multiple links using several type of links

Routing
WAN Gateway | Policy Based Routing, determine their routing based on policy | Quality of Services, the ability of a network to provide good service by providing bandwidth, overcoming jitter and delay.


VPN Tunnel Encryption
SD-WAN will establish a communication path with VPN tunnel, this tunnel will be encrypted for securing communication

Zero Touch Provisioning
Automatically authenticate, connect and receive configuration instruction from centralized management


Access Control List
Stateless firewall
Previous
Next
Connect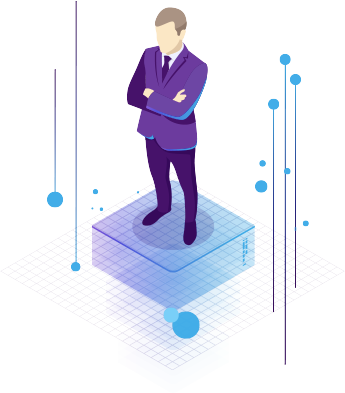 Discuss how this solution can unleash the true potential of your business,
contact Digiserve now!
↑