Digiserve (formerly Telkomtelstra) made a stunning achievement by winning the Silver Winner Award at the 2021 Miracle Enterprise Award (MEA) event. The aim of the event, organized by PT Telkom Indonesia's Directorate of Enterprise & Business Services, was to show appreciation for and acknowledge CFU (Customer Facing Unit) Enterprise staff. Moreover, the event is designed to foster a culture of innovation and creativity in carrying out duties and obligations to achieve pre-determined targets.
The MEA event is also an opportunity to express appreciation for business innovations produced by all units within the Telkom CFU Enterprise environment in the form of a competition, which has been held annually since 2018, and is attended by all CFUE Business Unit Divisions (DES, DGS, DBS, and SDA), CFU Enterprise Subsidiary Business Units, the EBIS Directorate Office, and Telkom Regional BGES.
Therefore, all MEA participants have made a significant contribution to the business performance of their respective work units. Participants can take part in the competition based on predetermined categories. The judging is conducted by an internal TelkomGroup jury, as well as an external panel of expert judges.
For the 2021 MEA event, the Digiserve team, represented by Asi Christo, Anang Siswanto, Nadia Qisthina Putri and Ekmal Hakim, presented the idea of "Surviving the Pandemic through Digital Customer Experience" for the category of "Customer Experience Innovation – Solutions for Pandemic Innovation".
The idea is a relevant solution to the COVID-19 pandemic, which has been ongoing for the past 1.5 years. Moreover, the pandemic has caused a major global setback, including in Indonesia, and has forced all industries to undergo digital transformations.
Companies that have not yet made digitally-oriented operational changes have been greatly affected. In contrast, companies that have initiated digital transformations toward Industry 4.0 are more crisis-resistant and have been proven able to survive the pandemic with increased profits.
Moreover, the process of digital transformation has also changed customer expectations, with customers no longer simply buying a product, but also seeking an experience. This, of course, represents a challenge in understanding customer preferences and maintaining their trust.
The Digiserve team picked up on this challenge as an opportunity to provide solutions using customer-focused innovations. When it first arose in 2019, Digital Customer Experience (DCE) focused on providing services that were vastly more sophisticated than we had previously seen.
At the time, the need for electronic Know Your Customer (eKYC) services was not as urgent as it currently is during the pandemic. Since March 2020, conditions have flipped 180 degrees. Companies are starting to look to DCE as a solution for enterprise development during the pandemic.
DCE is known as a platform that helps companies grow their business, as well as build a sustainable foundation of trust from their customers, increase customer loyalty, and maximize business opportunities. It is undeniable that in the current digital era, customer experience has become a benchmark for the success of a company in determining the right business strategy.
There are three main challenges in creating and building a DCE: predicting what clients need, delivering personalized interactions, and being slow to adopt new digital channels. From these three challenges, the Digiserve DCE solution started by utilizing Oracle Live Experience technology, which is a cloud-based platform. The platform boasts various features and advantages, including digital omnichannel options, and the ease of integrating with a company's existing eKYC-related applications during the pandemic. The DCE service has undergone a developmental process using the MVP (Minimum Viable Product) development framework consisting of five stages: Engagement, Exploration, Incubation, Scaling, and Management.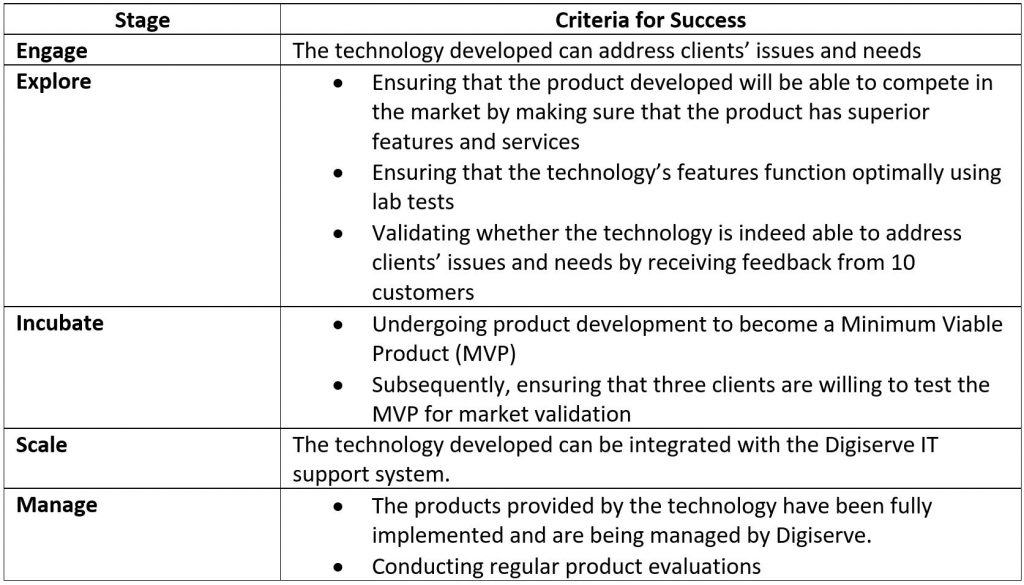 The platform can be used as a solution so that companies can always interact with their customers without losing client trust. Using cloud-based Software-as-a-Service (SaaS) technology, companies can implement their services with a minimal investment value and with boundless geographical coverage. As long as an internet connection is available, interactions can take place virtually.
All interactions between customers and agents can be conducted easily and efficiently. The service can be embedded in a mobile app or one of the customer's existing web applications (Mobile). Customers can easily choose a communication channel during interactions, either via voice communication, video communication, chat, or screen-sharing (Rich Channel). Customers can also be connected to agents according to customer context through the application, meaning that customers can be directly connected to an agent following customer queues (In-Context). Moreover, not only are customers able to initiate communication with an agent, but agents are also capable of initiating the interaction (Proactive).
The platform focuses on key resources and activities in providing DCE services from the perspective of technology, people, processes, and tools.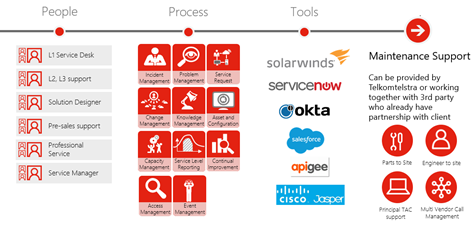 With this solution, Digiserve provides convenience and the best experience with customers being able to easily initiate interactions with an agent and choose the digital channel options required either initially or throughout the interaction.

The DCE service focuses on targeting the banking, fintech, insurance, and retail industries. By utilizing DCE services, customers are projected to experience an increase in total revenue.
One client from the banking sector has applied DCE services to date for its new account opening services. The clients aims is to obtain 1,500 new customer accounts in a day. Currently, the client uses 70 seats for 210 agents. In the future, the customer will develop its Oracle Live Experience services by expanding the number of concurrent agents.
The success of the pilot project over the past year of the pandemic has created new markets and revenue for the Telkom Group and its subsidiaries that are relevant to the DCE solution. Moreover, with the pandemic situation not yet showing any signs of improvement, companies that interact directly with their customers see DCE as an extremely relevant solution to be implemented as soon as possible.
With its DCE solution, Telkom arms its customers with the most cutting-edge weapons so that they can continue operating and survive the COVID-19 pandemic. This will contribute added value to their digital connectivity, which has become the backbone saving the nation from the COVID-19 pandemic. The pandemic situation has been a natural accelerator for the adoption of DCE solutions among customer-oriented companies that wish to continue growing throughout the current crisis and emerge as winners.
Furthermore, this extraordinary achievement can inspire Digiserve employees to continue to innovate and fulfill Digiserve's commitment to providing the best digitalization and telecommunication services throughout the country.