Digiserve continually underlines its commitment in providing the best service to all customers, whether in logistics, retail, banking, telecommunications, transport, or Information Communications Technology (ICT).
Excellent human resources and quality products guarantee our ability to provide an extremely satisfactory service to our customers. Digiserve currently employs high-skilled team members, many of whom are internationally certified.
From the guaranteed service aspect, Digiserve recorded a high Service Level Agreement score of 99.85% (exceeding the target of 99.5%) and succeeded in achieving a Net Promoter Score of 73% (exceeding the target of 56%).
This high skilled human resource competence forms part of the professional talent in Indonesia, which excels in the field of IT. Because of these capabilities, they are needed by local and global companies, operating not only in Indonesia, but also abroad.
Predominantly during the pandemic, many industries in Indonesia have maximized resources in the digital and technology field in marketing, sales, promotions, and more. It is not only companies focused on IT and technology, but also many conventional companies, who have become more aware of the importance to go digital. It is this digital transformation which is driving many companies to open job opportunities in the digital and technological fields.
Of course, having these professional talent brings benefit to Indonesia, with a growing population of 273.87 million as of 31 December 2021. Approximately 201.8 million of these people (73.7%) have internet access in Indonesia at the beginning of 2022. The remaining 73 million people (26.3%) do not have internet access.
To accommodate these qualified and professional talent, Digiserve founded the Indonesia Global Delivery Center (IGDC) in 2018. Digiserve, as the foremost IT managed service provider in Indonesia with a systematic talent development system, has considerably helped the top Indonesian talents to contribute and collaborate globally through IGDC.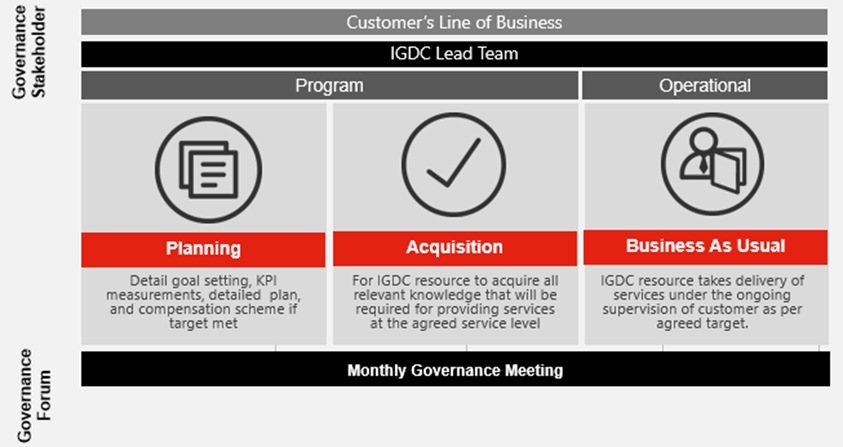 IGDC aims to provide a quality Professional Service to global companies operating both in Indonesia and abroad. Additionally, IGDC aims to replace services provided by third parties in countries outside organizations' country of operation, in order to provide high quality human resources at a commercially competitive cost.
This work system is undertaken through 100% remote working from Indonesia, based on the time zone where the customer is. This is a strategic step from Digiserve to fulfill customer needs for project delivery across the world. Digiserve contributes to the global economy through intertwined contributions to the digital economy.
The existence of IGDC, provides opportunities for the best talent in Indonesia to enter the global market, and makes it possible for customer organizations to operate using domestic resources without excessive expenditure. IGDC has provided professional service to prominent telecommunications corporations in Australia and China, as well as IT and connectivity companies in Australia.
There are two options for collaboration models with IGDC. The first is project based, where talent/resources will be assigned to the customer according to the project duration. The second option uses a resource augmentation system (Dedicated Professional Service), where the customer will gain a dedicated professional service, which can be utilized for Business as Usual, or be a part of the customer's resource pool for a minimum of 1 year. This resource will be assigned to the customer on a dedicated basis.
IGDC service professionals include a Project Manager, International Roaming Tester Engineer, Device Accreditation Engineer, Service Solution Architect, Third Party Manager/Contract Manager, Mobile Support Analyst, Sales Support Analyst, Regional Director, IT Support Management (ITSM) Developer and Business Analyst.
Furthermore, IGDC increases the quality of customer experience, productivity and results, and also protects intellectual property rights and implements greater control on how work processes contribute to profit.
Another reason for a global company to choose to collaborate with IGDC is because of IGDC's strategic positioning in Indonesia, which covers several countries in the Asia Pacific. IDGC's location in Indonesia enables coverage for global delivery for those with a significant time difference from the countries where their customers are located, such as companies or projects in Europe, the UK, and the Middle East.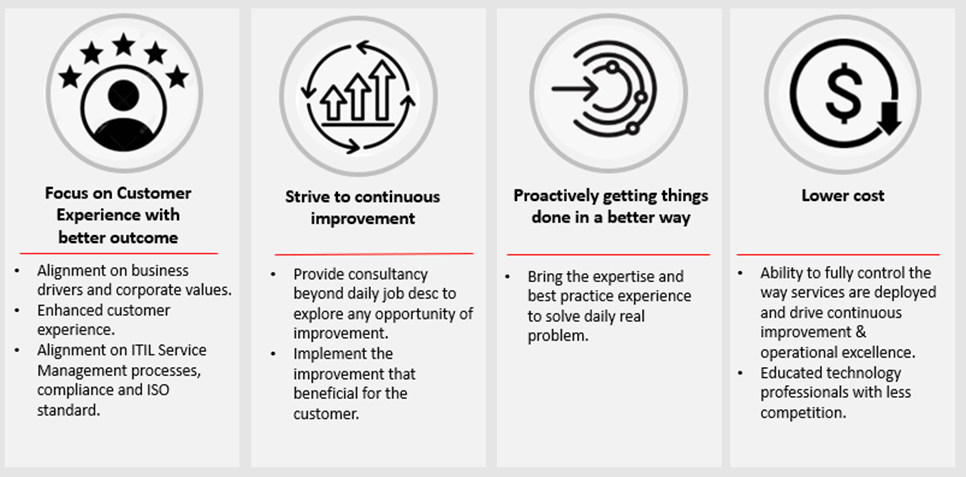 For companies focused on their core business planning to expand to the Southeast Asian market, IGDC in Indonesia has a strategic location. Supported by an understanding of the culture, and only a slight time difference with Asian countries, a company's decision to use the Professional Service from IGDC is the right decision.
No less important, is the cost efficiency for the customer, as they gain a resource with global competence at a competitive rate, without requiring investment in training & IT Opex (laptop, office rental).
With performance like this, it is no surprise that since its formation in 2018, IGDC has received 37 exceptional acknowledgements from customers for service satisfaction. These acknowledgements vary from IGDC resource contribution for winning strategic projects, through creation of automation tools, to business process improvement which simplified a customer's business process to make it more effective and efficient.
The large level of international acknowledgement from our customers can also be seen from the level of contract renewal of 99%, which shows that the majority of customers feel greatly helped through the service provided by IGDC. Furthermore, our customers always want to renew their contracts and develop with IGDC, requesting more resources to join their team.
Given this proven excellent performance, Digiserve has created a future action plan which aims to maintain the market in Australia through existing customers and penetrate the global market through engagement with other Telkom subsidiaries to provide solutions which can support global delivery. Furthermore, Digiserve will enrich the service to encompass not only Professional Services, but also bundling solutions with other Digiserve products/services, to become a comprehensive service, whether for the local or global market.