Author: Risti Raditantri, Billing and Revenue Assurance Manager
It is undeniable that technology facilitates and accelerates users' ability to complete their work, both punctually and accurately.
In the current technology disruption era, many companies benefit from and optimize the use of technology, particularly in the area of data management. Data has become a crucial consideration in working out decisions to be made.
Such data utilization is known as a data driven approach, and is used to help a company analyze trends and developments in the business world. The data driven approach undertakes and processes work based on the available data.
Data can also be an important factor in decision making. Companies can take data into consideration before creating a strategy and implementing a business plan. The process of analyzing and interpreting data is also categorized as part of the data driven approach. The data driven approach can therefore be used to show a company's performance alongside other factors.
All companies, including telecommunications and technology companies like Digiserve, need accurate data in the business process, including billing. As a result, modernizing the billing system is an important initial step to improve performance before moving to develop other aspects.
Up to February 2022, Digiserve's business process has remained on track, in line with plans following the acquisition by PT Telkom Indonesia (Persero) through TelkomMetra in 2021. The company has refreshed its management, to motivate the company to grow even better at achieving targets in 2022 and implementing the agreed business plan.
The company has also taken steps to modernize the billing system, known by the acronym BIRA, or Billing & Revenue Assurance. BIRA, which was launched in 2021, is a new unit within the company, under the Customer Excellence Department.
The BIRA work unit employs five people, who are responsible for ensuring the payment collection process from unbilled to billed runs smoothly in order to produce revenue for the company.
When it was first put in place, the challenge for BIRA was an invoicing process that was not yet optimal. This included the lack of an end-to-end integrated IT system, leading to frequent disputes and human errors.
As a result, the company committed to developing an end-to-end integrated IT system, from PreSales-Sales-SOP-PMO-CE (BIRA)-FIN, so that the payment collection process would be efficient and measurable in terms of delivery time (SLA/Service Level Agreement).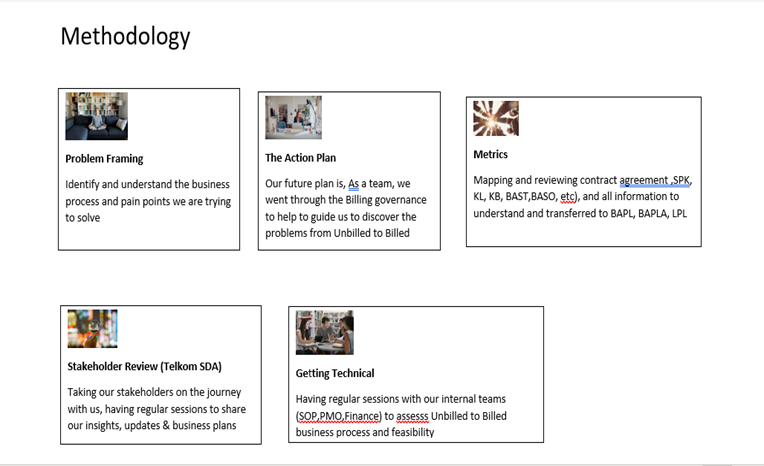 To ensure the billing process runs smoothly for the sake of a secure company cashflow, the BIRA methodology started out from a framing process, identifying and understanding the business process and points of difficulty which needed to be solved. Next, an action plan was made, linked to the strategic planning team, to help identify various obstacles related to the unbilled to billed process through billing procedures.
Subsequently, mapping and review of contractual agreements was undertaken, including partnership contracts, service contracts, customer agreements, records of transfer, statements of operational readiness, and other related documents, to create a billing report in the form of a service inspection report, active service inspection report, and service performance report. Within this process, project status is synchronized and document completion checked with the internal teams, namely Sales Operations, Project Manager and Finance. After that, a stakeholder review is undertaken by Telkom Service Delivery Assurance (Telkom SDA) to evaluate the feasibility status of the project to be billed.
This methodology is indeed a long process. This is in line with Digiserve's commitment to provide the best service to customers. Based on the Customer Satisfaction and Loyalty Survey (CSLS), which measures customer satisfaction levels towards products and services using a Net Promoter Score (NPS), Digiserve scores 73%, above the industry average of 42%. This means that services must be maintained, as they are of value to Digiserve customers.
Digiserve President Director Ahmad Hartono is also optimistic that the company transformation can provide the best services to strengthen client businesses to continue to grow, achieve maximum results, and meet market needs. Digiserve is ready to accelerate growth, providing the best products and services to customers. The strong support of Telkom Group makes the company increasingly confident in meeting the challenges of market trends and ICT Managed Solutions businesses in Indonesia.
To support growth, the company will continue to work together and collaborate, both internally and within the Telkom Group. The company will attempt to consistently implement the business plan, as well as maintain the company's good reputation and corporate culture.
This business plan includes the modernization of the billing system through BIRA. Generally speaking, this billing system is very useful to companies with multiple daily transactions, where the company requires tools capable of processing data to facilitate payment collection.
This is in line with the mission of BIRA, namely that the process must fit with the company's Objectives and Key Results (OKR), where data accuracy and documents are very important in the billing process. If data from the related documents does not match, then disputes will arise at the point of invoicing. Conversely, if the process runs correctly and accurately, maximizing data driven customer service, then the company can analyze the total revenue it will receive.
BIRA requires customer data, so that the process always remains data driven, using data as a reference or basis for work. In implementation, a data driven approach will be more focused on analysis, interpretation and research of the required data.
Data driven approaches are proven to have many advantages. In undertaking payment collection from unbilled to billed, everything is based on the available data. In particular, using this data means there will no longer be baseless estimates or assumptions.
The data driven approach in BIRA is able to provide many benefits, including more accurate revenue predictions which support management to make decisions related to the resulting revenue.
Where incorrect or inaccurate data is found, companies can immediately take steps to complete or correct the data. This means that with a data driven approach, companies can create appropriate policies to develop the business.
Another benefit is related to company revenue predictions. For company sustainability, the payment collection process can be analyzed using data. By paying attention to interpreted data results that have been calculated and analyzed, a company will gain a value for potential revenue within a measurable time frame, and thus company management can prepare effectively to fix any sectors necessary.