Author: Nadia Qisthina Putri
The pandemic, which has been ongoing for over 1.5 years, has changed the pattern of human activities, from our behavior, hobbies, and habits, to how we work. The situation has also been influenced by various restrictive policies imposed by the government to limit people's daily activities.
Under the current conditions, employees are required to be able to adapt to remote working situations. Previously, when still working from the office, employees could manage their time between their personal and professional lives. However, during the pandemic, tasks that would usually be conducted from the office have migrated to 'virtual work' or 'the digital workplace'.
Being under various restrictions can lead to or cause stress, fatigue, and excessive over stimulation. This is not surprising given the drastic changes in work behavior. This issue became a concern for Digiserve management, with the company's understanding that taking on multiple roles when working from home requires extra time and energy from everyone, including men, women, teenagers, and adults.
As a company engaged in information technology, Digiserve encourages managing the work environment and existing human resources in order to remain productive, so as to produce the best work; innovate, especially in terms of customer service during the pandemic; and keep businesses running.
Therefore, for this year's Brilliant Collected Women event, the CEO Office and HR team invited Monique Hardono from 'Meditate with the Heart' to guide virtual meditation activities.
Brilliant Connected Women is a network designed to connect women at Digiserve by inviting internal or external speakers to share their stories, experiences, and expertise in their respective fields.
Keeping to the theme of "Calm Breathing", the activity is aimed at Digiserve employees, in particular those who require healing, through a range of activities and exercises. The mediation exercise will be the opening session of a total of three events to be held monthly for the next three months.
In her introduction, Monique explains that meditation is a technique to draw out a person's positive energy from within themselves. Positive energy is required to balance out the negative energy that exists within a person, originating from various external sources.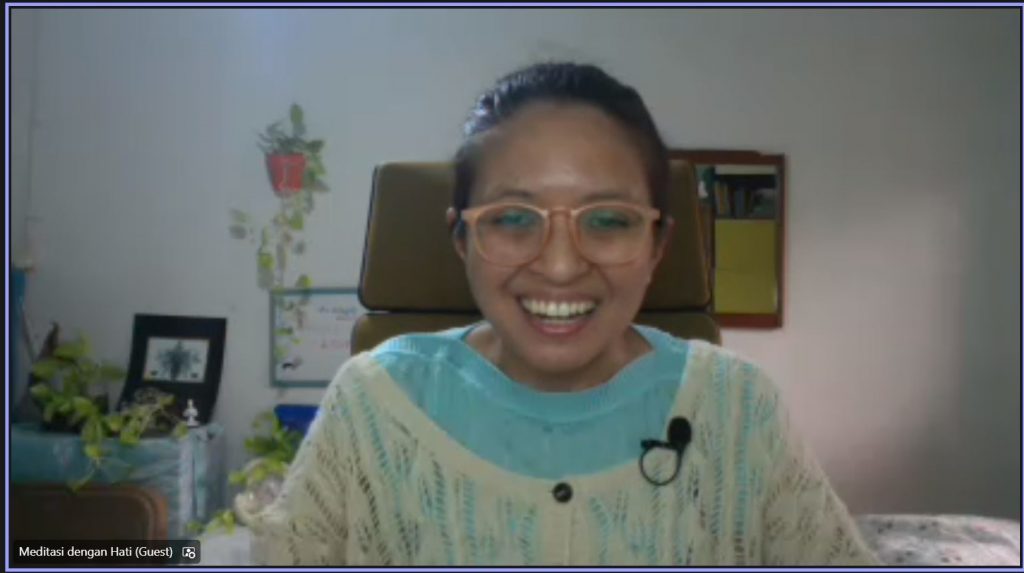 Moreover, meditation is a form of exercise to center and clear your thoughts in order to feel more calm, comfortable, and productive. Meditation is also effective in activating brain waves that play a role in concentration, memory, and awareness, and is believed to be able to produce positive emotions that stimulate a sense of contentment.
In the opening session, participants are invited to take a comfortable sitting position with their legs crossed, and their hands placed on their knees, palms facing upwards. Then with their eyes closed they begin to inhale and exhale.
For a count of six, participants are asked to inhale and then exhale for another count of six. This process shows that beginners' rhythm is usually fast; 20-30 breaths when both inhaling and exhaling. This shows that they are unable to control themselves; that their minds are not focused, and that their thoughts are all over the place.
When our rhythm reaches 12-15 breaths, we become calmer, our minds begin to focus, and we relax. Ideally, in deep breathing meditation we should take under ten breaths for every six counts. In these conditions, we achieve a feeling of comfort and peace, reinvigorating the body and clearing the mind. "Accepting and appreciating the situation, whatever the conditions. That's the path to attaining peace of mind."
In the subsequent session on "rhythmic deep breathing", each stage of breathing is conducted for six counts. Inhale (six counts), hold (six counts), exhale (six counts), and hold (six counts).
There is a particular method of inhaling to reach the stage of rhythmic deep breathing. The technique is on counts one and two to expand the chest, on counts three and four to expand the diaphragm, and on counts five and six to expand the stomach. Meanwhile, exhaling has its own stages: on counts one and two to exhale from the stomach, on counts three and four to exhale from the diaphragm, and on counts five and six to exhale from the chest. The entire process is carried out simultaneously.
Rhythmic deep breathing is an effective method for maximum self-healing. Supported by the attitude of accepting and appreciating your situation, whatever the conditions, you can accelerate the process of achieving peace of mind.
During the meditation process, the mediator motivates the participants and helps them feel more "calm", relaxed, and peaceful; to accept and appreciate themselves as they are. Being rooted in the earth, valuing your entire self, and connecting to your infinite potential helps you on your path to becoming a whole individual.
No matter what judgments other people make about you or events you experience, these are merely external forces. What matters is how you react. It is important to realize that negative reactions only bring about further negative reactions, while positive reactions generate extraordinary positive vibrations that come back to you.
Peace is attained when we are willing to accept and appreciate ourselves and our situation as it is, and to let go of any negative thoughts that are present. Being grounded by using rhythmic deep breathing or by simply sitting and relaxing in nature is extremely effective in cleansing one's energy. By grounding yourself, any negative energy can be neutralized, and the flow of the earth's natural energy accepted. This is when we become relaxed, focused, and peaceful.
Meditation also encourages us to think positively, which creates strong energy. You become extremely powerful when you choose to reject negative thoughts and start to have positive thoughts and feelings.
By thinking positively, we release positive vibrations into the universe and the universe, which always supports us, returns this energy in the form of various life events. This is the secret of manifesting. Think and feel that you are healthy, and your body will follow. "Every cell in my body spreads the virus of happiness".
During the last session of the Brilliant Connected Women meditation activity at Digiserve, participants are taught the 'Pat and Slap' technique once the meditation exercise has ended. The technique involves gently patting the top and sides of the head, then slapping the cheeks slowly and rhythmically.
This process is part of cooling down stage to maintain physical fitness once the meditation exercise has finished.
When beginners follow all stages of the meditation correctly, they feel excessively sleepy. This shows that the body is beginning to accept the process and relax. If participants are able to follow the rhythmic deep breathing exercises correctly, they achieve optimal deep self-healing, causing the energy radiating from their bodies to positively sway their thoughts and bodies.
Try meditating!